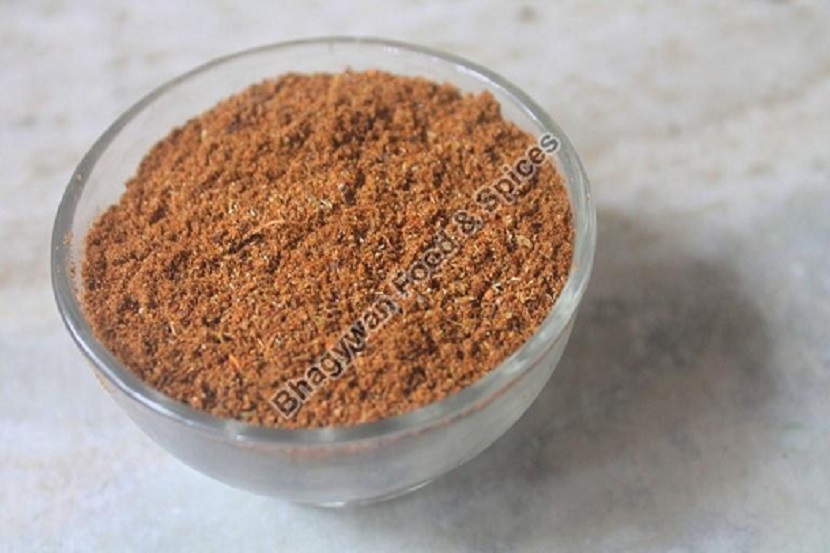 Kitchen King is a common name when it comes to Indian kitchens. It has that homey feel to it, like the kind of thing you used to grow up eating. However, it does also have a luxurious vibe to it, like some sort of oomph to its name. That's probably true since kitchen king is not a spice mix you see used often in homemade food.
As the name suggests, is more of a secret spice grandma takes out of her old, deformed, brass spice box when the whole family visits. Whenever an experienced cook wants to bring out the big guns, this alluring spice mix is there somewhere in the background. Doing much of the heavy lifting behind the dish it is used in.
Recipes
The recipe of kitchen king varies from maker to maker. Some of the usual spices used in this lordly spice mix are turmeric, salt, black pepper, dried coriander and/or coriander seeds. To round out this already heavenly-smelling mix, cumin, red chilli powder, garlic powder, fenugreek, ginger, cinnamon and curry leaves are added.
Since the recipe can vary, some versions of it contain as many as 20 or more spices. Some of the other commonly used spices are cardamom, asafoetida, star anise, caraway seeds, cloves, nutmeg, mace and big cardamoms. However, it is not the number of spices used but the ratios in which they are mixed that make or break this king.
That is why it is important to source this spice blend from kitchen king masala suppliers of repute. One who understands the value of quality over quantity.
Sensory characteristics
Unlike garam masala which is a kind of strong, in-your-face kind of spice mix, kitchen king is more mellow. It is more yellow in colour than garam masala too due to the turmeric used. The colour ranges somewhere from a reddish ochre to a light brown. Which depends on the number of spices used and their ratios.
The mellow taste and smell of the kitchen king does not mean it lacks taste. It has a more restrained and refined taste compared to garam masala for sure. That is why garam masala is more common in households too because it is easy to use. Kitchen king masala is more tailored to experienced cooks with its subtle blend of myriad flavours.
Taste-wise, it can be described as slightly spicy since there are hot spices like ginger, chillies and black pepper. The cinnamon, mace and cloves give it a slight sweetness and amazing smell in the aftertaste. And the astringent quality of the asafoetida and star anise make themselves known as soon as it hits the palate. All while leaving a slightly sour aftertaste.
It has a slightly citrusy smell from the fenugreek, with a burn afterwards from the chillies and black pepper. The turmeric and fenugreek leaves add an earthy element to both the smell and the taste. Finally, the curry leaves, coriander, and curry leaves add their freshness to this amazing masala. Make sure to source your mix from
Culinary Choices
Again, unlike the intense garam masala, favoured more for meats and spicy dishes, this masala is ideal for vegetables. The well-balanced mouth feel of the kitchen king masala adds extra oomph to light but flavourful dishes. Some dishes which can incorporate and benefit from the kitchen king are:
1. Lightly flavoured rice dishes like pulao or vegetable biriyani. This wonder spice mix can make up for the lack of flavour from meat as in the non-veg versions. Even biriyani lovers would say that vegetable biriyani is a legit biriyani if this masala is used correctly. It can also be used to add a zing to sweet, lightly spiced meat-based pulaos like the Afghan Kabuli pulao.
2. It is ideal for all kinds of sabzis. Especially, all vegetable-based sabzis like mutter paneer, mixed vegetable, aloo gobi and the like. Similarly, paneer is a great medium for this masala and it does equally well in both dry and gravy paneer dishes.
3. Kitchen king is a hit with Punjabi cuisine and is equally used in both veg and non-veg, dry and gravy dishes. Its spicy, slightly sweet and astringent taste and bomb aroma go very well with the Punjabi style of making food. Stews and curries are the most common options for using this masala though.
4. It is also a common spice in north Indian restaurant kitchens, where it is used to make curry bases. The base ingredients are usually sauteed in oil, red chilli powder and kitchen king before adding the other ingredients.
Health Benefits
While kitchen king on its own does not have quantifiable health benefits, it is made up of all healthy ingredients. Some of the common health benefits of the individual spices that make up this masala are:
• Turmeric is a great all-around superfood with its antioxidant, anti-inflammatory and antibacterial properties. Curcumin, an active compound in turmeric, makes it soothing for the stomach and protects the liver and heart.
• Cumin is good for flatulence, nausea, indigestion and other stomach ailments because of its cooling properties.
• Black pepper is known to aid digestion, promote weight loss and clear up blocked sinuses. Another benefit of black pepper is that it boosts the immune system to help fight tumours.
• Ginger is commonly used for sore throats, colds, nausea and morning sickness.
• Dry coriander is useful for diarrhoea and is also believed to stem heavy menstrual flow.
• Cinnamon is a great reliever of inflammation throughout the body.
• Cloves, if present, are used to treat toothaches.
This masala, from kitchen king masala suppliers of repute, can thus not only be tasteful but healthy as well. As long as the spices used are fresh or freshly roasted before grinding, they can satisfy both tastebuds and the body. Kitchen king from old spices will have a different smell and lacklustreflavour.
Treat your taste buds today to the complex but restrained elegance of the kitchen king in your dishes. And don't worry about not getting compliments after a little trial and error. The extra effort that needs to go into mastering this wonderful spice mix is always worth it.