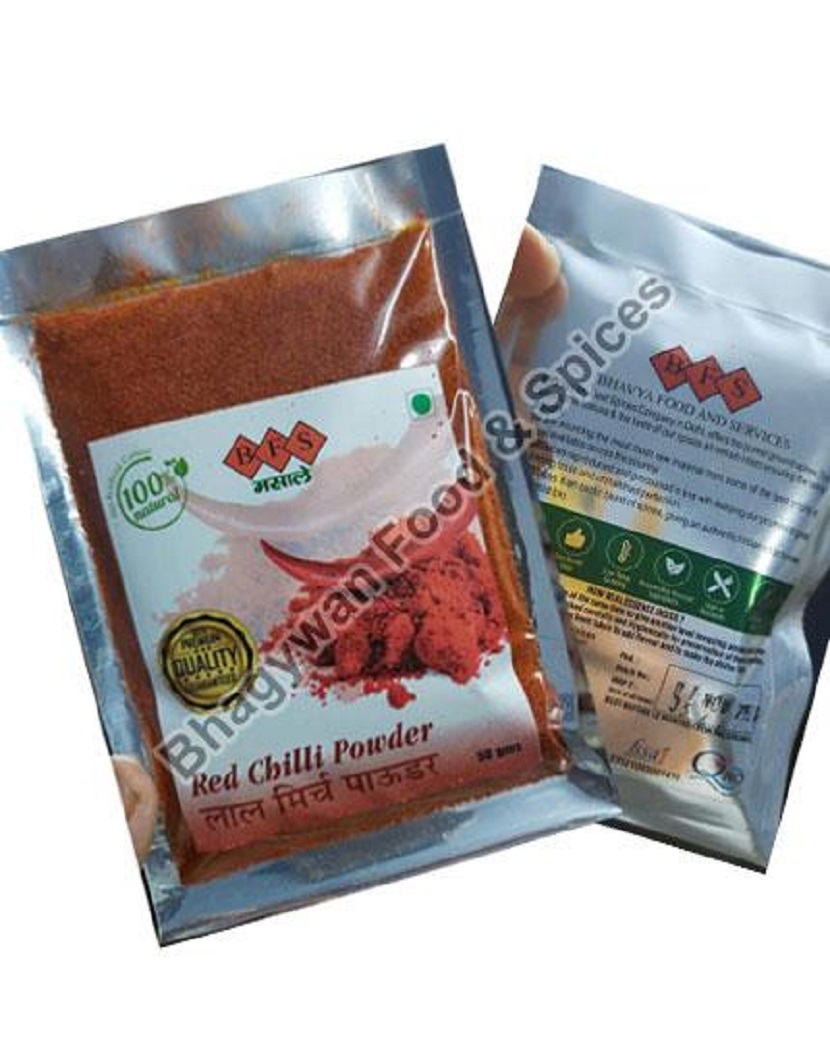 Spices are a strong indispensable part of India's rich heritage culture. Each state and region in India is known for its unique and traditional regional food. All these aromatic regional delicacies are prepared using different spice blends. You cannot ever imagine Indian cuisine without any spices. Every Indian kitchen is incomplete without a spice box and one such strong spice in that box is red chilli powder.
Red chilli powder, commonly known as lal mirch, adds vibrant red colour and spice to your dishes. This spice is an essential part of Indian cooking for making curries, chutneys and sauces. This spice powder is made from a traditional method of grinding dried red chillies. Red chilli powder in Delhi is 100% pure without any preservatives, colours, or chemicals. So, adding this spice can now turn any boring recipe into a more special, tasty, and pleasing dish. This distinctive spice can not only set your taste buds on fire but your stomach too if added in large quantities.
Red Chilli Powder in Delhi has a spicy & hot taste, which gives a delectable taste and rich texture to many delicacies.
-It is made from premium red chillies that are handpicked from trusted sources.
-These chillies are thoroughly cleaned before drying to make them dust or stone free.
-It is dried, grounded, and processed traditionally to produce the best quality and natural red chilli powder.
-This red chilli powder is hygienically packed in different pack sizes to maintain maximum freshness.
-Red chilli powder has great demand in kitchens of restaurants, hotels, cafés, caterers, canteens, and homes around the world. You can also give a rich aroma, goodness, and peppery touch to your dishes and enjoy your regular cooking. This hot spice brings flavours to your kitchen and gives you some amazing recipes.
-Evening snacks made using red chilli powder are surely a treat for kids and families that can make your mood.
Make snacks like fritters, rolls, and chillas.
Prepare marinades for your tandoori snacks in paneer, chicken, and mushroom.
Make curries, biryanis, and dals to make them spicier.
Add it to your pasta sauce, schezwan, and chutneys.
You will be surprised to know that this spice not only makes your food tasty and colourful but healthy also. The nutritional value that a pinch of this spice has for your body is hard to ignore. Red chillies are rich in capsaicin, a thermogenic compound popular for its fat-burning and metabolism-enhancing properties.
Adding some red chilli powder to your dishes can render you these amazing health benefits-
Boosts energy and metabolism
Red Chilli powder helps in speeding up your metabolic rate. A faster metabolism helps you in shedding those extra kilos along with converting stored nutrients into energy effectively. A higher metabolic rate paves the way for a good lifestyle and a healthy body by helping you burn more calories.
Promotes weight loss.
Nowadays, obesity has become a major health problem that can cause other chronic conditions like heart disease. Capsaicin, a wonderful ingredient in red chilli powder, is pure bliss for anybody looking to lose weight effortlessly. It helps in curbing hunger while promoting fat burning. When you eat less, workout more, and your metabolism is also high then it's obvious to lose weight. So, adding red chillies powder to your meals is a nice and spicy strategy in your weight reduction program.
Improves digestion.
Red chilli powder contains antioxidants that efficiently boost the production of gastric juices in the stomach. This helps in enhancing the digestive system by relieving problems like constipation and gas. It also keeps the colon, digestive system, and stomach healthy by removing harmful bacteria from the intestine.
Relieves inflammation
A powerful compound called capsaicin has strong anti-inflammatory and pain-relieving qualities. This helps in reducing pain, especially in joints and muscles by connecting with the pain-sensing nerve terminals in the body. It also offers these pain receptors resistance to discomfort from other sources including inflammation brought on by acid reflux.
Maintains blood pressure levels
The presence of potassium content in red chilli powder is quite high. The rich potassium diet helps in relaxing the blood vessels by allowing a smooth flow of blood throughout the body.
Regulates cholesterol levels
It also has a good content of riboflavin and niacin that helps in maintaining the cholesterol levels in the body. Regular consumption of capsaicin helps in reducing triglycerides and improves the overall lipid profile.
Enhances the heart's function
High blood pressure and high cholesterol levels are the major contributors to cardiovascular problems. When these are regulated, it is natural to avoid heart problems automatically. The magic ingredient in red chilli powder, capsaicin, hinders the development of blood clots. Thus, it greatly helps in maintaining the health of our hearts.
Clears nasal congestion
It has some amazing antimicrobial and antibacterial properties that help in clearing nasal mucus from the respiratory tract. It also aids in relieving congestion, preventing sinus infections and treating fungal infections.
Improves brain performance
It has a high Iron content that leads to increased haemoglobin, which further increases blood flow to the brain. A suitable supply of blood and oxygen to the brain improves cognitive abilities and lowers the risk of Alzheimer's. Additionally, it helps in enhancing areas like learning, thinking, understanding, problem-solving, decision-making, and other mental tasks.
Great for skin and hair
Red chilli powder is extremely rich in vitamin C which helps in retaining and producing collagen. This is a protein important for good hair and skin. Improved blood circulation gives your skin a natural glow. It also helps in treating skin issues like wrinkles, dark patches, and acne. With the presence of vitamin A, red chilli powder is considered best for healthy hair.
The benefit of Red chilli powder is establishing new frontiers of this wonderful spice. However, due to its widespread demand, there is a huge possibility of adulteration in red chilli powder by its providers. Therefore, if you want to reap its maximum health benefits, it's recommended that you get the best packet.